MERRY CHRISTMAS!
For the first time ever, all three novels of the Circle Bar Ranch Series are on sale for 99c each! You can read about each book by clicking on the "Books" tab.
Don't miss this opportunity–Sale Ends FRIDAY, Dec. 13th!
NOTE: Amazon set up the trio in one link, but they didn't transfer over the reviews. If you want to glance through the reviews, you can look up the books individually:
If you read any of the books, please leave a review and let me know what you think!
~~~~~~~~~~~~~~~~~~~~
New Releases for December!
December 2019 New Releases
More in-depth descriptions of these books can be found on the ACFW Fiction Finder website.
Contemporary Romance:
Stranded for the Holidays by Lisa Carter — Running away led her right where she belonged. A new mom for Christmas? She's everything they've wished for. Runaway bride AnnaBeth Cummings needs shelter for the holidays when a blizzard leaves her stranded, and rancher Jonas Stone's happy to help. But his son's been wishing for a mommy for Christmas, and town matchmakers are convinced Annabeth and Jonas are perfect for each other. As the storm clears, city girl AnnaBeth will have to decide: does her heart now belong in the country? (Contemporary Romance from Love Inspired [Harlequin])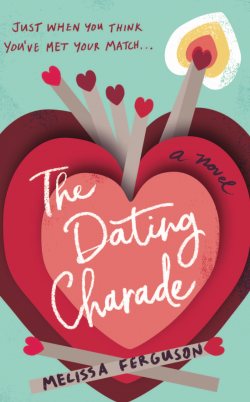 The Dating Charade by Melissa Ferguson — After a knockout first date where Cassie Everson and Jett Bentley claim to not want kids, both come home to find three children dropped in their laps. . . each. While struggling to keep their heads above the parental waters, and without wanting to break up their relationship, they decide to do the mature thing: hide the kids from each other while sorting it all out. What could go wrong? (Contemporary Romance from HarperCollins Christian Publishing)
Home for Christmas by Candee Fick — After an embarrassing failure, a prodigal retreats to a secluded cabin in backwoods Missouri where he encounters an intriguing young woman and an old guitar. When the message in the music touches his heart, will he make it home in time for Christmas? (Contemporary Romance, Independently Published)
Getting Out of the Comfort Zone: Ayanna by Barbara James — While interning as a hospital chaplain, a young military officer falls for an EMT who is an antiwar activist. (Contemporary Romance, Independently Published)
Children's:
Battle In The Valley by Susanne Blumer — The church bell tower transports Chip, Caroline and Billy back thousands of years to an ancient battlefield. There they meet a young shepherd destined to be king and a giant warrior bent on his destruction. Will the children survive the upcoming fight and make it back to Palmetto Island in one piece? (Middle-grade from Sutton Avenue Press)
Historical:
Hope Unchained by Carol Ashby — When a former legionary and a gladiator are hired to escort a young woman on her quest to rescue her brother and sister from slavery, more chains are broken by forgiveness and love than any of them thought possible. (Historical from Cerrillo Press)
Historical Romance:
The Major's Daughter by Regina Jennings — In a western land run, an adventurous socialite stakes a claim on an orphaned outlaw's chosen land, so he decides to stake a claim on her heart. (Historical Romance from Bethany House [Baker])
Sew In Love by Debby Lee, Jacquolyn McMurray, Darlene Panzera, and Kimberley Woodhouse — When four women put needle and thread to fabric, will their sewing lead to love? In Hearts Sewn with Love, during the California gold rush, a beautiful seamstress finds her heart torn between the men who want to marry her and the one fortune hunter who won't. In Woven Hearts, a shirtwaist factory fire survivor struggles to provide for her family despite the disastrous misguided intentions of the handsome union organizer who tries to help. In A Language of Love, a milliner with thick Irish accent and a renowned baseball player with speech impediment meet at the office of a language teacher. But the issues with their backgrounds that first brought them together will also drive them apart. In Tailored Sweethearts, a parachute seamstress struggles with her faith in desperate circumstances. A fighter pilot teaches her to hope in her darkest hours. (Historical Romance from Barbour Publishing)
The Rebel Bride by Shannon McNear — During the clash between Union and Confederacy, quiet Tennessean Pearl MacFarlane is compelled to nurse both Rebel and Yankee wounded who seek refuge at her family's farm. She is determined to remain unmoved by the Yankee cause—until she faces the silent struggle of Union soldier Joshua Wheeler, a recent amputee. The MacFarlane family fits no stereotype Joshua believed in; still he is desperate to regain his footing—as a soldier, as a man, as a Christian—in the aftermath of his debilitating injury. He will use his time behind enemy lines to gather useful intelligence for the Union—if the courageous Rebel woman will stay out of the line of danger. (Historical Romance from Barbour Publishing)
Romantic Suspense:
Silent Night Suspect by Sharee Stover — Suspected of a crime she knows she didn't commit… All she wants for Christmas is to remember. Blood on her blouse. A gun in her hand. A cartel leader's dead body in front of her. Widow Asia Stratton can't remember what happened—just that she's been framed. The only way to prove her innocence is to work with her ex-sweetheart, Nebraska state trooper Slade Jackson. But can they clear her name before this Christmas turns even deadlier? (Romantic Suspense from Love Inspired [Harlequin])
Speculative:
Brand of Light by Ronie Kendig — After a catastrophic explosion, Kersei Dragoumis awakens in a derelict shuttle, alone, injured, and ignorant of the forbidden technology that has swept her into a nightmare. The brand she's borne since childhood burns mysteriously, but the pain is nothing to that when she learns her family is dead and she is accused of their murders. Across the quadrants, Marco Dusan responds to the call of a holy order-not to join them, but to seek a bounty. Gifted-or cursed-with abilities that mark him a Kynigos, a tracker sworn to bring interplanetary fugitives to justice, Marco discovers this particular bounty has nothing to do with justice and everything to do with prophecy. One that involves the hunter as much as the hunted. (Speculative from Enclave Publishing)
Thriller/Suspense:
Laynie Portland, Renegade Spy by Vikki Kestell — Laynie must fight to earn her place on the task force—even as unfolding events expose a looming danger. Wolfe's task force has a leak . . . one that threatens them all. (Suspense, Independently Published)
Plus check out these recent additions to Fiction Finder published within the past month:
Promise for Tomorrow by Michelle De Bruin, Historical Romance
Call to Love by Mary A. Felkins, Contemporary Romance
Joy's Song by Ruth Kyser, Contemporary Romance
Hope Between Us by Christy LaShea, Contemporary Romance
The Trouble in Willow Falls by Pat Nichols, Contemporary
Off the Ground by Catherine Richmond, Historical Romance
Crinoline Cowboys by Patty Smith Hall, Cynthia Hickey, Marilyn Turk, Kathleen Y'Barbo, Historical Romance
A High-Country Christmas by Davalynn Spencer, Historical Romance
The Christmas Gazebo by Marilyn Turk, Lenora Worth, Historical Romance